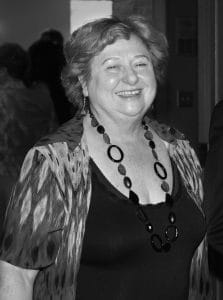 Rosalie Jane Shimerda, 74, died Sunday. She would not have wanted a typical obituary.
A retired Lincoln Public Schools English teacher at East High and Dawes/Mickle Middle Schools, Rosalie was a writer and a teacher. She wrote about nature, about life and to advocate for the people and causes in which she believed.
Her love of writing and nature began on a family farm in Swanton, and she always longed to return to rural life. The daughter of Milo and Edna Shimerda, she was a middle child, survived by an older brother, John Shimerda, and younger sister, Lois Shimerda Rood.  Her education began in a tiny one-room District 80 rural school. A member of the Wilber High Class of 1960, she was valedictorian and homecoming queen.
She honed her writing skills while earning bachelor's  and master's degrees at  the University of Nebraska. She started a family with ex-husband Jim Petracek and had a daughter, Laurie Jo Petracek.
Before dying of heart complications, Rosalie spent valuable time with Laurie and other family members. She had a huge heart for surviving grandchildren, Joshua, Zachary, and Ashley, as well as great-grandchildren, Avah and Lillian.
Extended family include the adults for whom she cared at Region V, children she helped to read and mentor, former students, members of Lincoln's Native American and theatrical communities, as well as former co-workers at LPS and NET. Her first teaching position was in Murdock. Other teaching positions included stints at Southeast Community College, the Gathering Place and the Nebraska State Penitentiary.
As an educator, Rosalie said her greatest joy was to spark a lifelong love of reading and writing in students for whom school did not come easily: children with learning disabilities or difficult backgrounds and students for whom English was not a first language. She wanted tough cases as they presented the greatest opportunities to change lives, not just earn grades.
She took the same approach at home, often seeing potential in friends and family well before they discovered it in themselves. Those who loved her gravitated to an outgoing, opinionated, confident spirit.
Bridges of Hope and the Special Olympics are two of many groups in which she believed.  Her last act was to establish Rosalie Shimerda Grandchildren's Trust. Memorials may be sent to P.O. Box 83871, Lincoln, NE 68501. Flowers may be brought to her celebration of life Sunday from 2:30-4:30 p.m. at Sacred Winds Native Mission United Methodist Church, 2400 S. 11th St. (access via 13th Street) in Lincoln.